FINANCIAL HIGHLIGHTS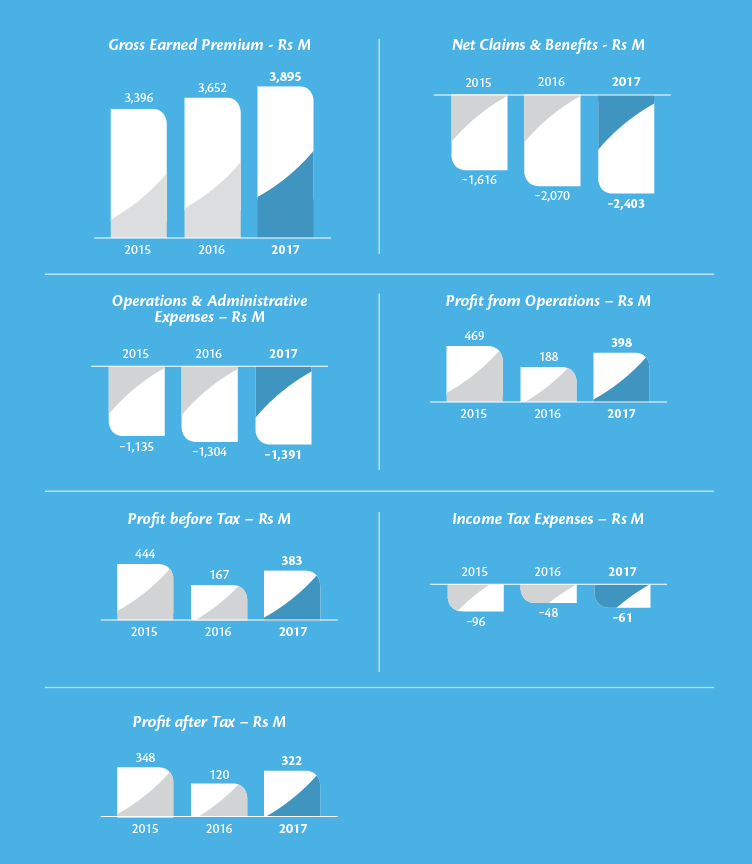 KEY PERFORMANCE INDICATORS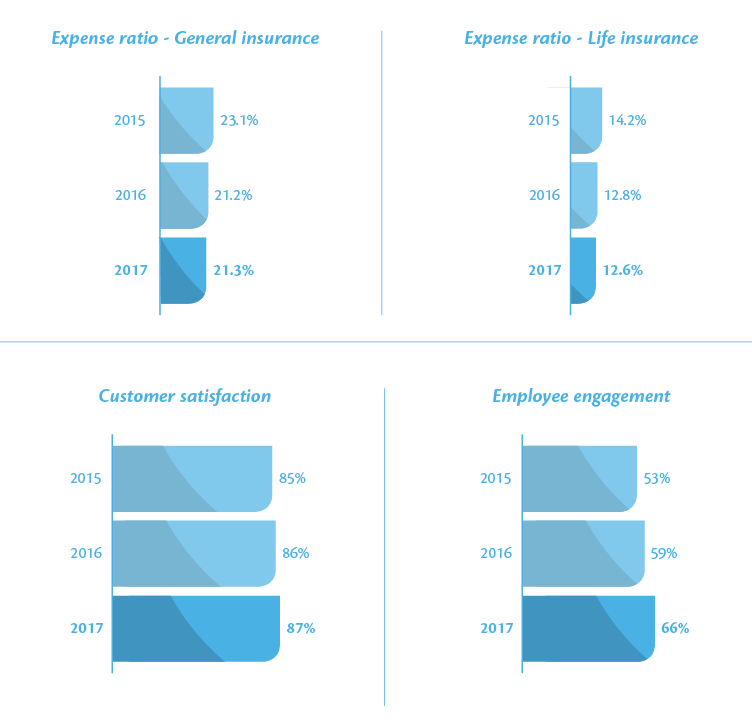 CORPORATE INFORMATION
REGISTERED OFFICE
4, Léoville L'Homme Street
Port Louis
Republic of Mauritius
Telephone: +230 207 5500
info@mauritiusunion.com
mauritiusunion.com
AUDITORS
Ernst & Young
ACTUARIES
Deloitte Actuarial & Insurance Solutions, South Africa
SECRETARY
ECS Secretaries Ltd
SHARE REGISTRY
Abax Corporate Services Ltd
MAIN BANKERS
ABC Banking Corporation Ltd
Afrasia Bank Limited
Bank One Limited
Banque des Mascareignes Ltee
Barclays Bank Plc
Hong Kong & Shanghai Banking Corporation Limited
The Mauritius Commercial Bank Ltd
SBI (Mauritius) Ltd
Standard Bank (Mauritius) Limited
State Bank of Mauritius Ltd
SECRETARY
ECS Secretaries Ltd

SHARE REGISTRY
SBM Fund Services Ltd

MUA Ambition 2017
Some of the key highlights of our three year Strategic Plan (2015 to 2017) include: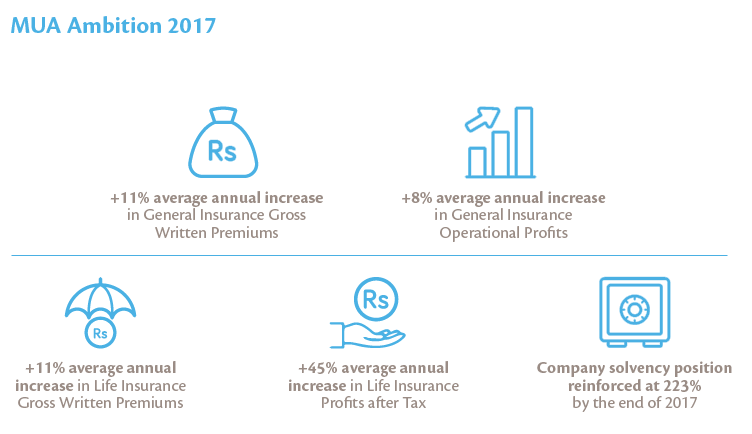 FINANCIAL HIGHLIGHTS 2017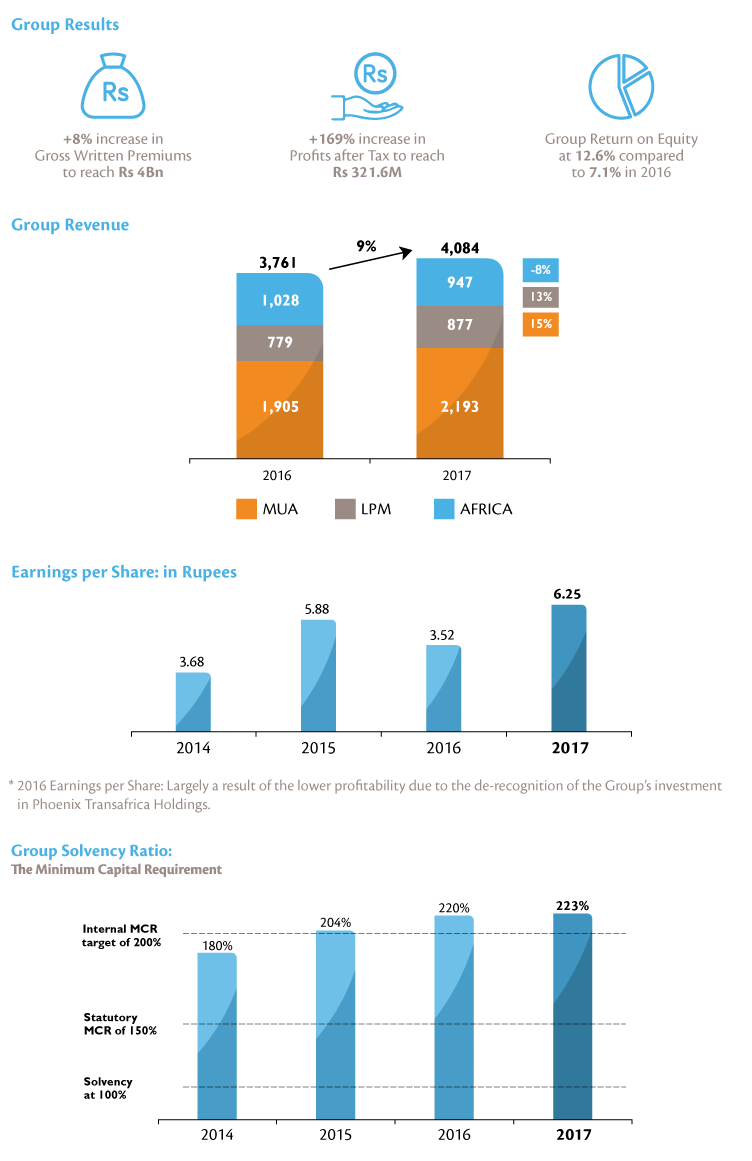 GENERAL INSURANCE - Mauritius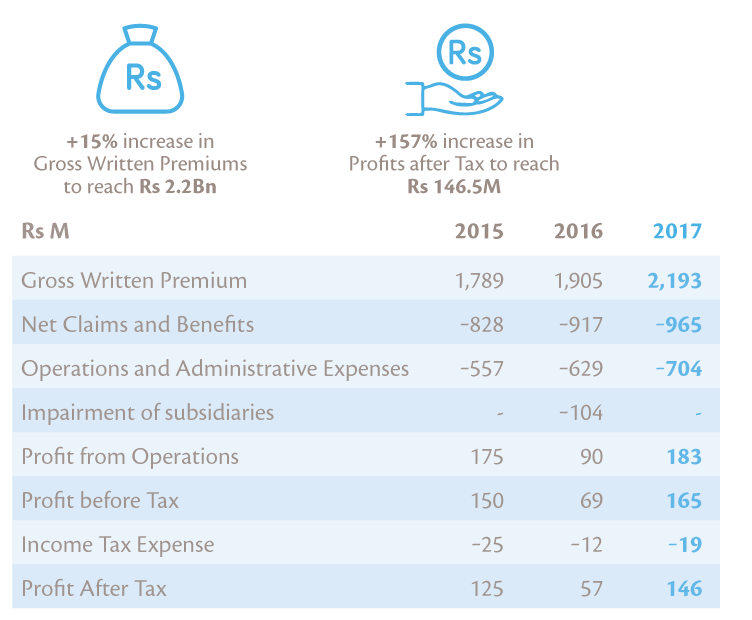 EAST AFRICA SUBSIDIARIES 2017 performance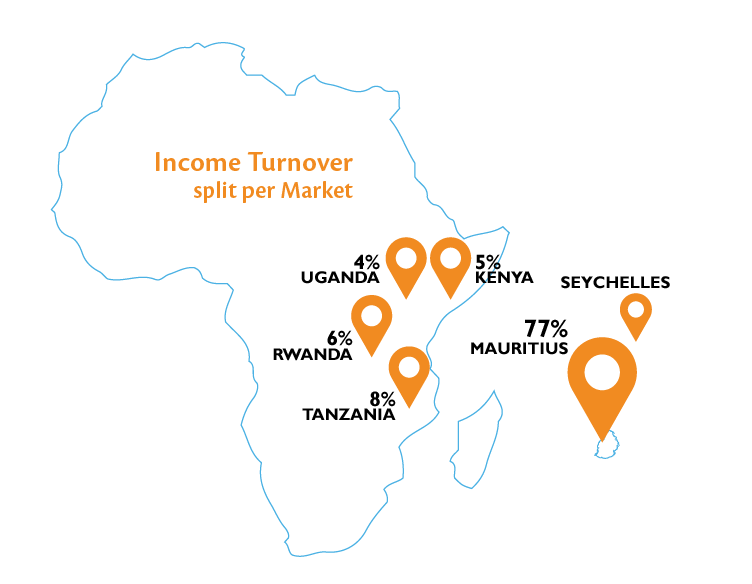 MUA AMBITION 2020
At the beginning of 2018 the Group launched its second Strategic Plan MUA Ambition 2020, which sets in motion the fastpaced development of all the Group's entities over the next three years.
The main pillars of the plan are solid growth strategies and an ambitious set of initiatives aimed at transforming the Group in line with efficiency-driven technological innovation and the ever evolving expectations of its clients.
The four strategic axes are detailed below. The first and fourth axes are group wide strategies, whilst the second and third axes will be entity specific, aligned with individual business and market requirements.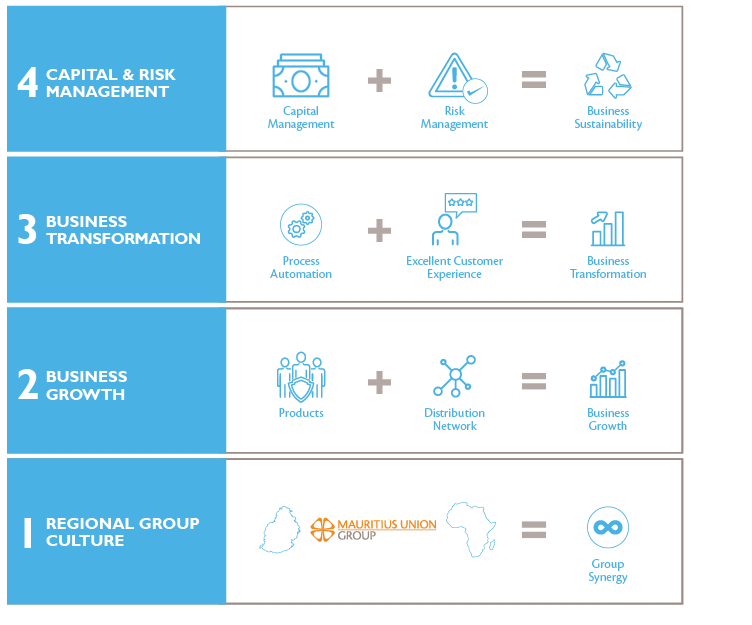 DIRECTORS PROFILES
COMMITTEES OF THE BOARD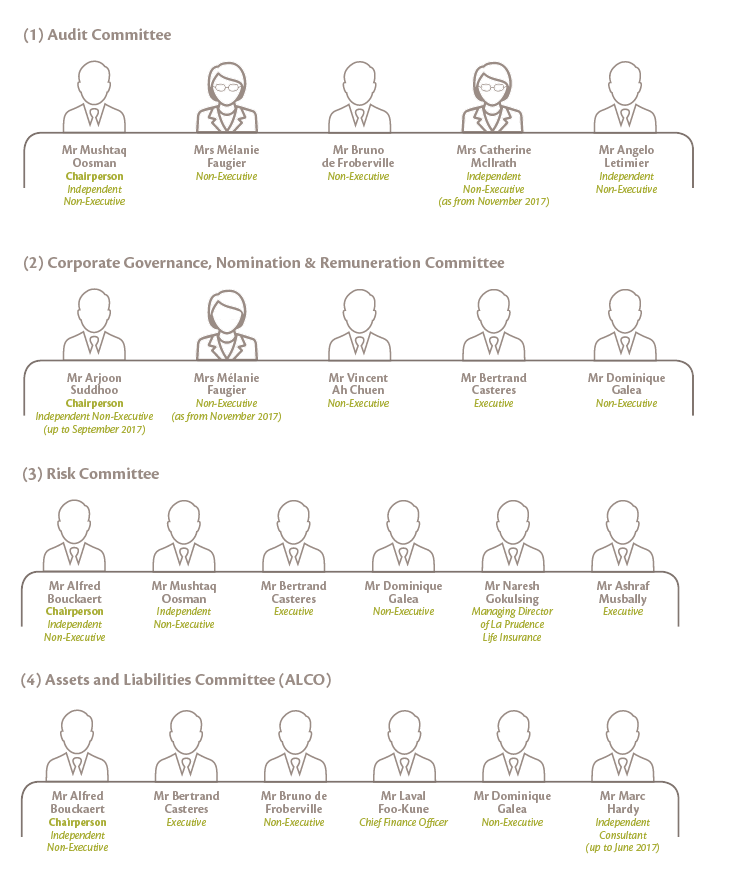 SENIOR MANAGEMENT
GROUP STRUCTURE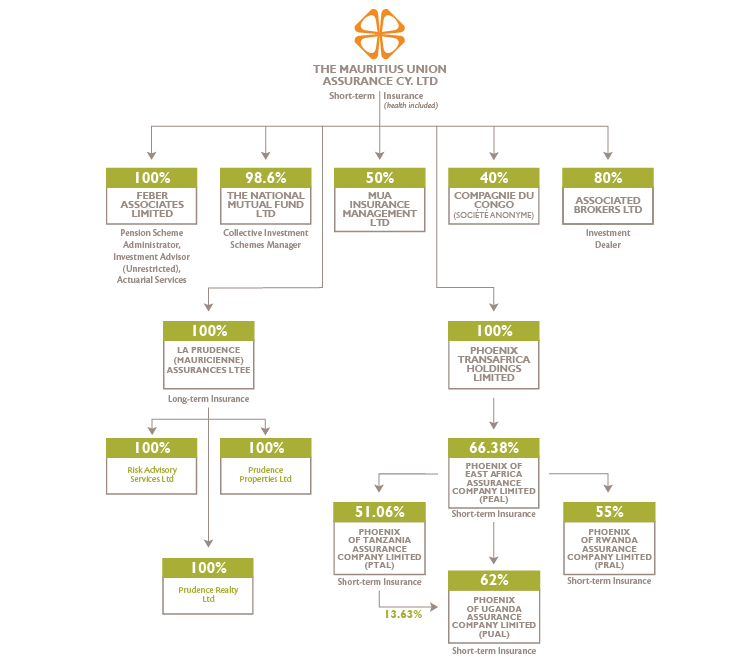 SHAREHOLDING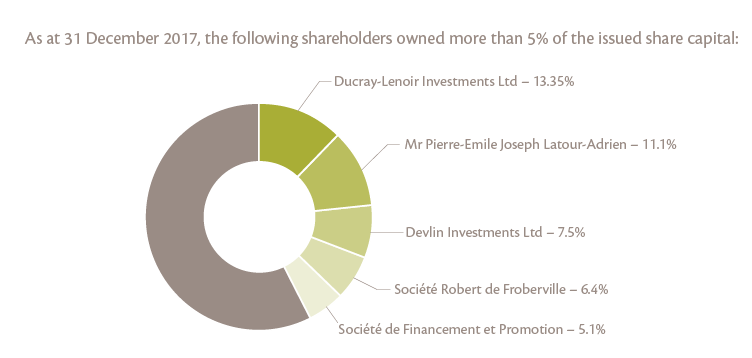 Share Price Information
The chart below shows the evolution of The Mauritius Union Assurance Cy. Ltd share price as compared to the Mauritius Stock Exchange Index (Semdex) and the company's Net Asset Value (NAV) per share over a three year period.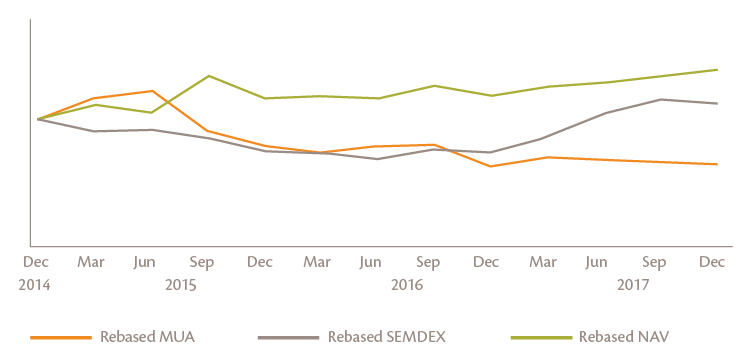 SUSTAINABILITY REPORTING
The Company recognises that it operates within a broader social and economic community. Consequently, when it takes decisions and carries out its activities, it is committed to considering not only economic viability but also environmental consequences and social implications.
The Company recognises its key role regarding job and wealth creation in the Mauritian society. Reporting sustainability is generally recognised as a way for a company to strike the right balance between economic, environmental and social integration, often through commitment and activities that extend beyond mere compliance with legislation.
A detailed Sustainability Report is presented on page 69. The Fondation Mauritius Union Limited was incorporated on 14 October 2010. It received official Corporate Social Responsibility (CSR) Accreditation from the National Empowerment Foundation in December 2010. Using the Fondation as a special purpose vehicle, we are now able to execute our CSR projects in a more efficient and structured manner, thereby contributing to the betterment of the community.
Ethics
Recognizing that our reputation is priceless, we demonstrated no compassion for any ethical compromise in our operations as well as in service to our customers, communities and stakeholders. Our code of ethics defines the standards for every Mauritius Union employee in his or her daily business practices.
Our code was revamped in 2015 to comprise of a gift acceptance policy. All gifts received from suppliers and well-wishers are pooled into a lucky draw, giving employees an equal chance of receiving one of the items.
Recent alleged cases of financial scams reported within the financial services sector in Mauritius, make us recognize the importance of being alert and sensitive to situations that may be illegal, unethical, in violation with ethical standards and/ or termed otherwise as improper.
Timetable of important upcoming events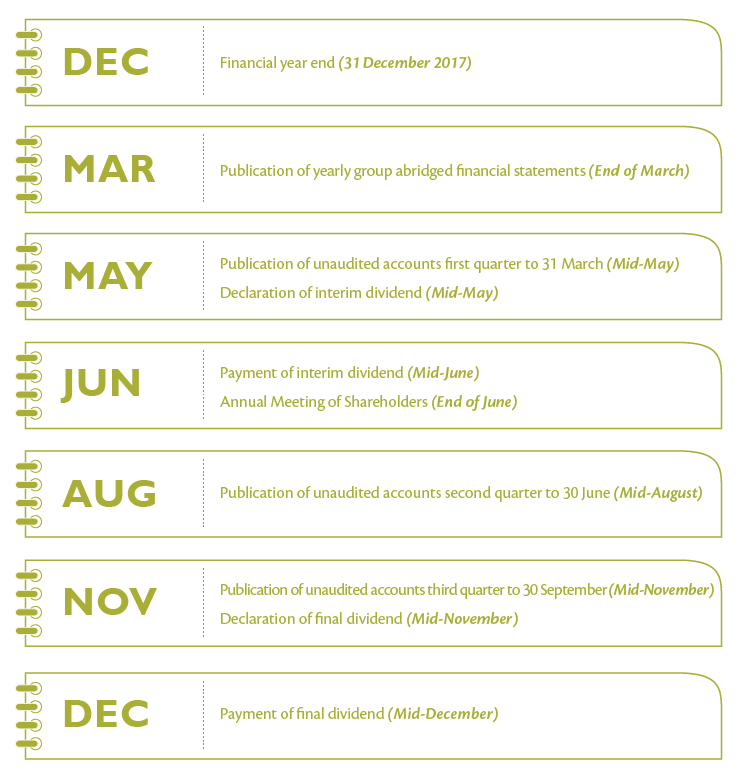 Chairman's Introduction
It is my privilege to once again present the Annual Report of The Mauritius Union Assurance Cy. Ltd for the financial year ended December 2017. The report that you have today in your hands, or at the click of your mouse, reflects the collective efforts of over 650 employees across six countries and a dynamic team of managers driving their respective business units and support functions.
The results speak volumes about the vision and commitment of our senior management team, not only in 2017 but since the start of the company's three year strategic plan in 2015. The entire board and I are satisfied with the company's achievements over this period, bringing greater shared value to all our stakeholders.
RESULTS
Although Bertrand and his management team will present the Group and Company results in more detail, it is important for me to draw attention to some pertinent results across our entities: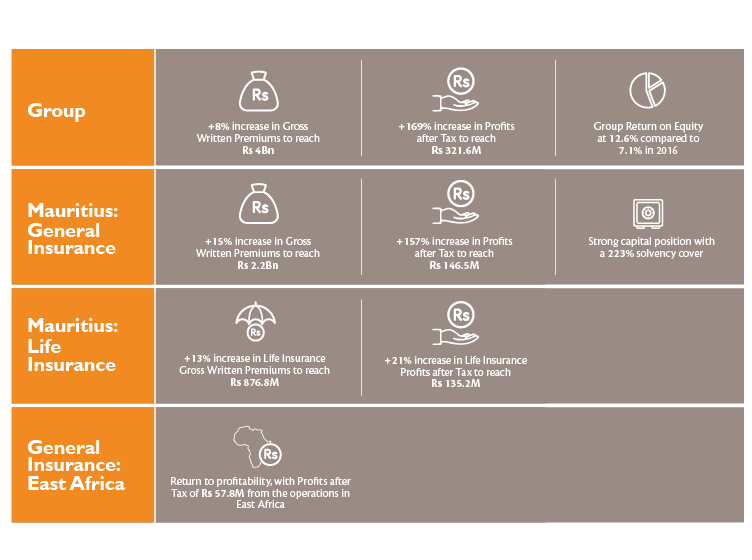 DIVIDEND
The Board has declared a total dividend of Rs 116.8M, equivalent to a dividend of Rs 2.59 per share. This represents a 3.6% increase on 2016.

ACKNOWLEDGEMENTS
In 2017 we welcomed a new board member, Catherine McIlraith, who brings considerable experience from her years in banking and finance in South Africa and Mauritius. She also has an extensive track record as a director, notably on the board of the MIOD, which she chaired for 2 years. Mrs McIlraith also joins the Audit Committee.
Mr Arjoon Suddhoo resigned from the board in September 2017. We would like to thank him for his seven years of service on the board and his contribution to the Group throughout a key period in our growth and expansion.
I also take this opportunity to thank my fellow board members for the time, expertise, commitment and experience they have contributed to the work of the board and its committees throughout 2017.
In so many ways, 2017 has been an excellent year for the Group. It marks the end of our three year strategic plan Ambition 2017, which has been a success in terms of the stated objectives and the positive consequences to many aspects of the business. Our African Subsidiaries have taken important steps towards aligning core operations, including information technology, finance, reinsurance, risk management and investment.
Over and above this alignment, there have been the encouraging and profitable results, borne out of the new reporting structure and strong local management. We have reported a robust performance in a stubbornly competitive and sometimes challenging business environment.
The concerted efforts and positive results of the last three years give considerable momentum to the group's next strategic plan – Ambition 2020. The board would like to pay tribute to the energy, dedication and hard work of the teams based in our six markets, who have delivered the results expanded in this Annual Report.
RISK MANAGEMENT OVERVIEW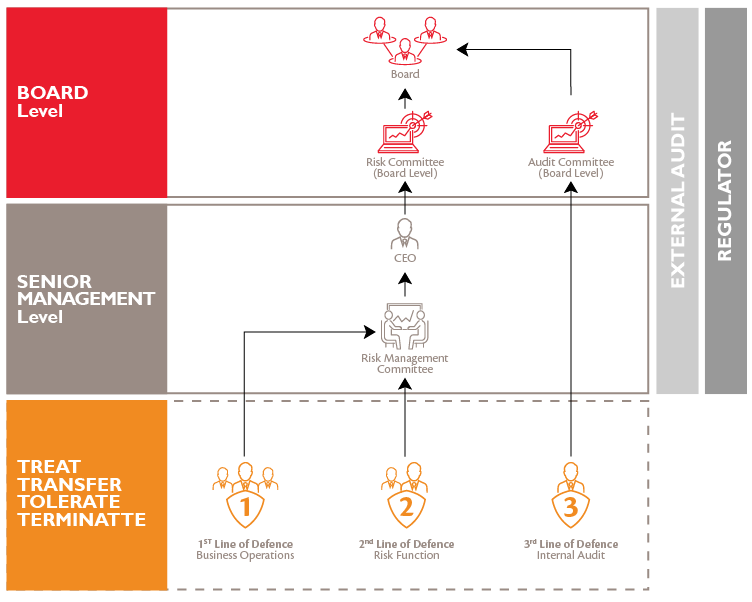 As a financial services company active in investments, life insurance, retirement services, long-term and short-term insurance, the Mauritius Union Group is naturally exposed in its daily business activities and strategic planning to numerous types of risk, like change in mortality rates, undergoing losses due to man-made or natural catastrophes, losing income ability through operational disruptions, outliving of assets and so on. Where there is a risk, there is improbability, and where there is improbability, there is exposure to volatility.
RISK CONTROL FRAMEWORK
The inherent risk is the one that exists before a company addresses it, that is the risk to the Group in the absence of any action taken to alter either its likelihood or its impact. Every company faces it, not all manage it effectively. These risks are reflected mainly on how you do business; its complexity, growth, changes; the staffing; technology and the organizational structure.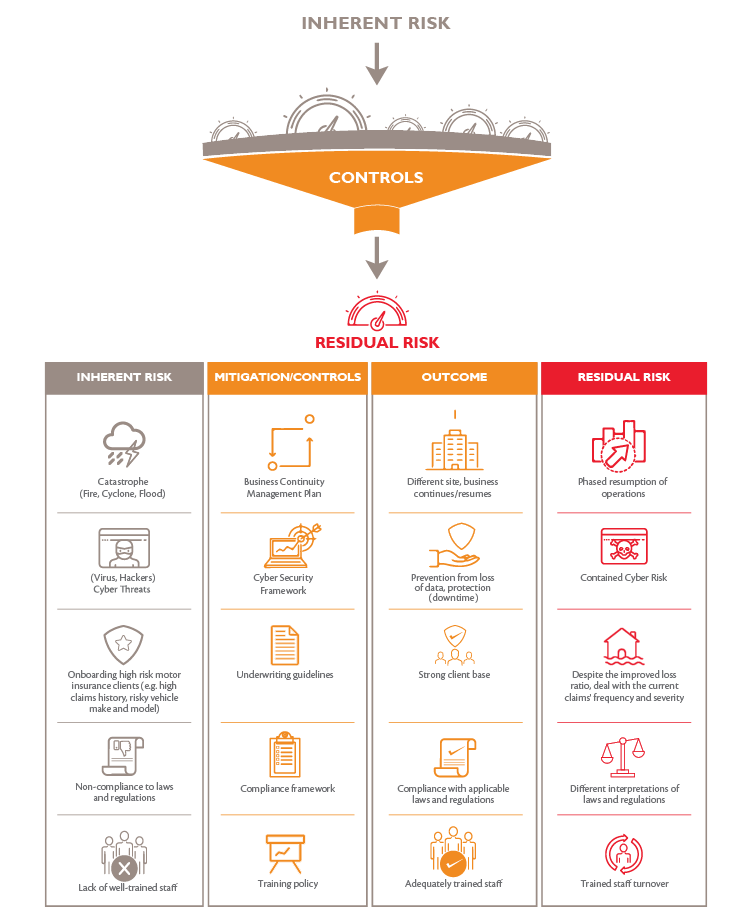 RISK MANAGEMENT RESPONSIBILITIES
The Mauritius Union Group has adopted the 'three-lines-of-defence' model where ownership for risk is taken at all levels in the Group. This model is widely adopted by financial services companies globally. It clearly sets out the risk management responsibilities across the business and is consistent with the current regulatory risk-based approach, encompassing corporate governance, systems and controls.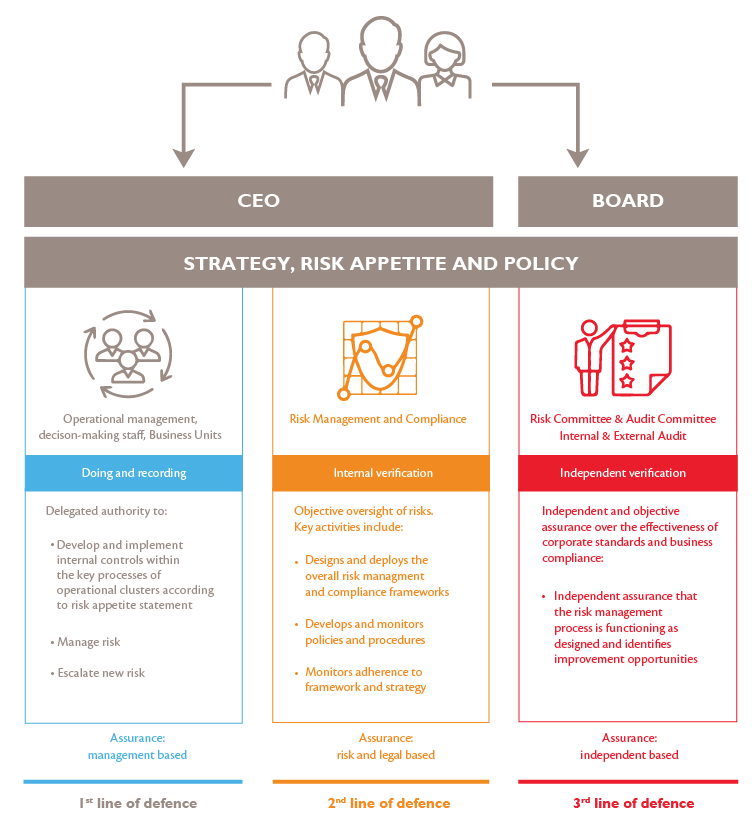 THE RISK MANAGEMENT FRAMEWORK
The Mauritius Union Group's risk management framework forms an integral part of the management and Board processes as well as the decision-making framework across the organisation. The key elements of the risk management framework are illustrated below: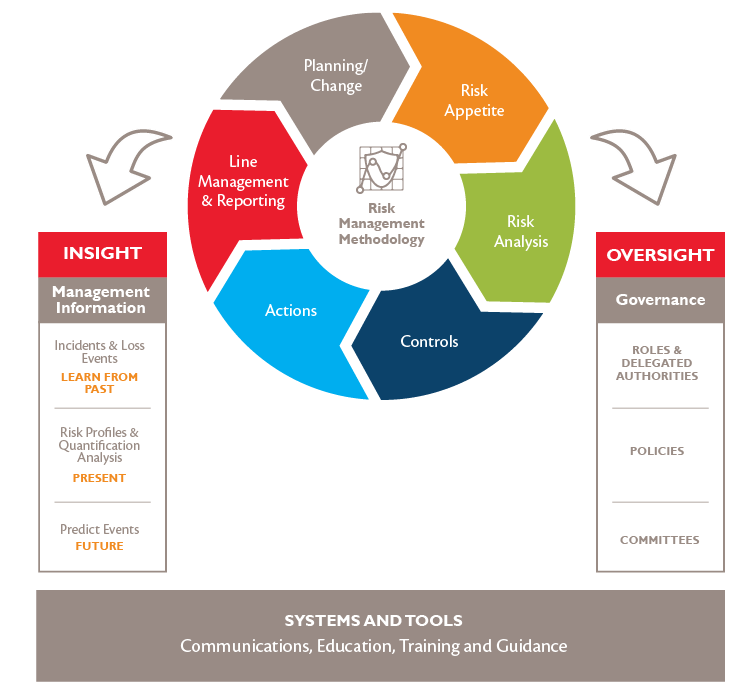 RISK APPETITE
The risk appetite is the level of risk the Group acknowledges and is able to accept in the pursuit of its strategic objectives.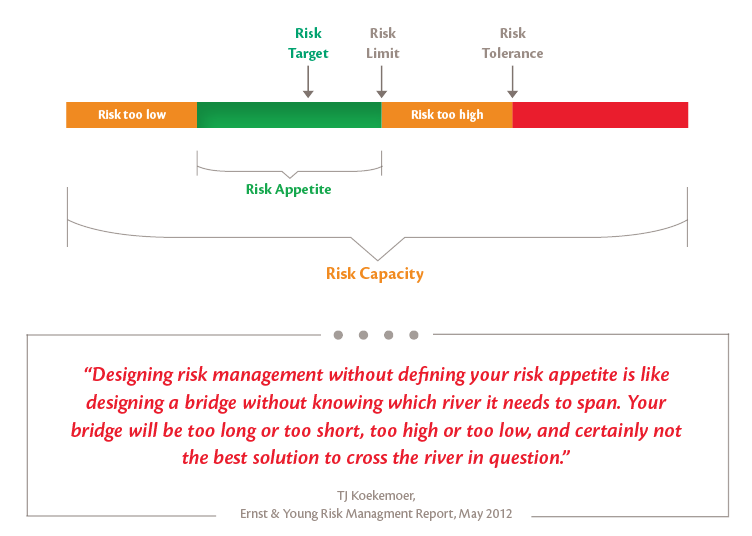 RISK PROFILE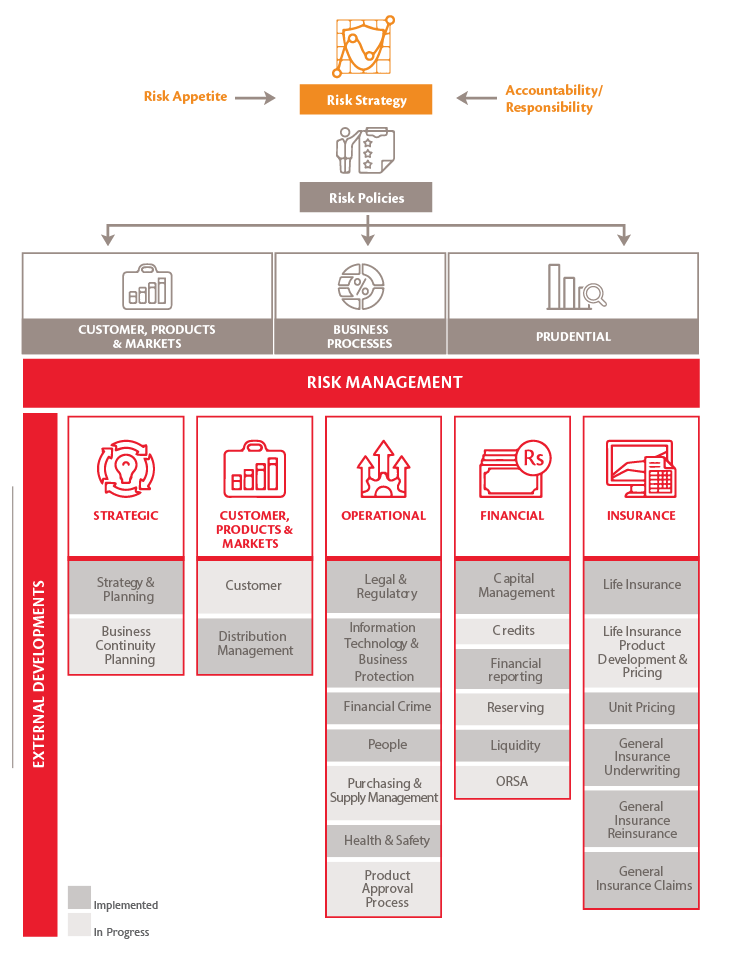 INVESTING IN TOMORROW
Sustainability has been one of the key features of the Mauritius Union Group's Ambition 2017 strategy. Over the past three years we have made positive progress in all the areas of the business closely concerned with sustainability. The sustainability of our business continues to rest on three primary pillars: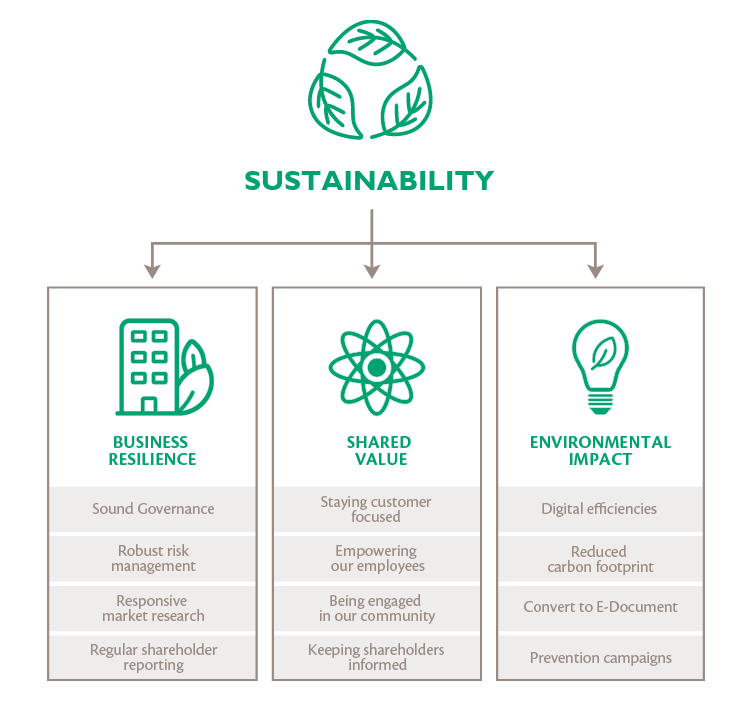 INVESTING IN OUR CUSTOMERS
Our Customer Care team continued to drive a series of initiatives in 2017 to ensure a smoother client journey and deliver more efficient service through all our channels.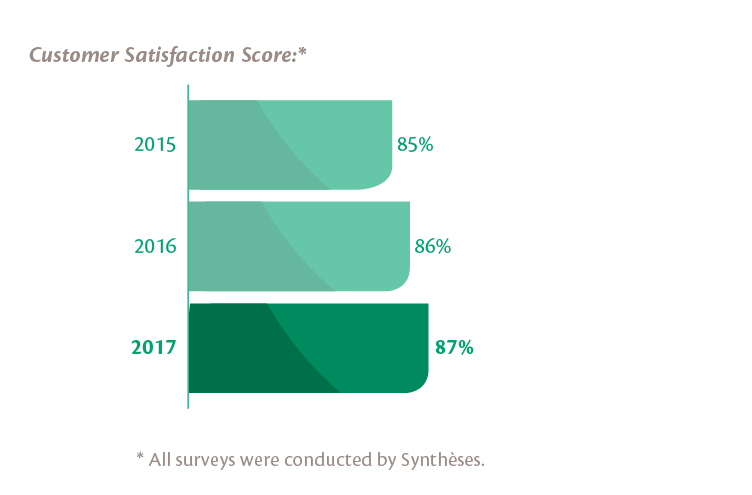 List of CSR projects financed in 2017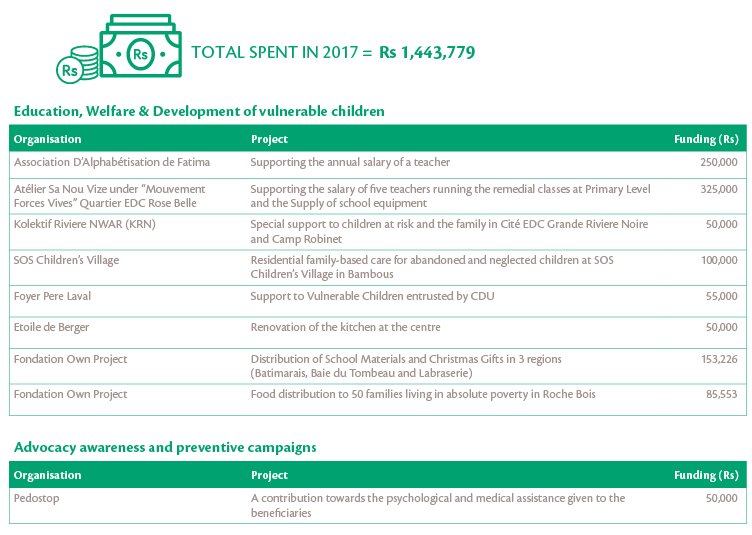 List of projects financed in 2017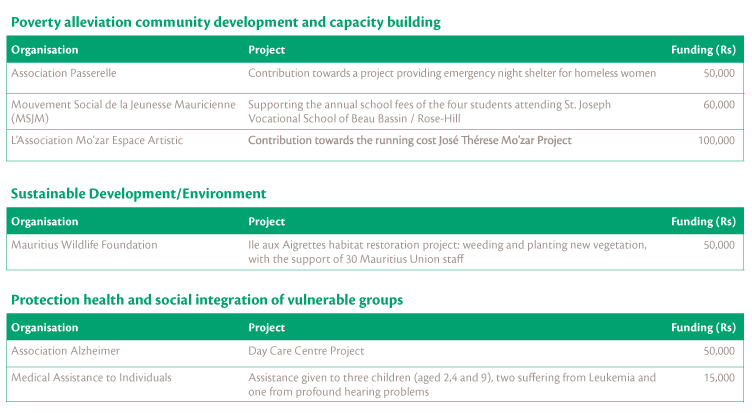 INVESTING IN OUR STAFF
Our human resources' projects and initiatives strive to up-skill and empower our staff, to better deliver on that ultimate goal of shared values to all of our stakeholders.
Our objective is to attract and retain the very best talent in our industry, whilst providing our teams with an optimal organisational structure, enhanced career opportunities and the possibility of expanding the breadth and depth of their experience. The positive results of these initiatives are evident in the scores achieved in our employee engagement survey, conducted over the past three years by AON Hewitt.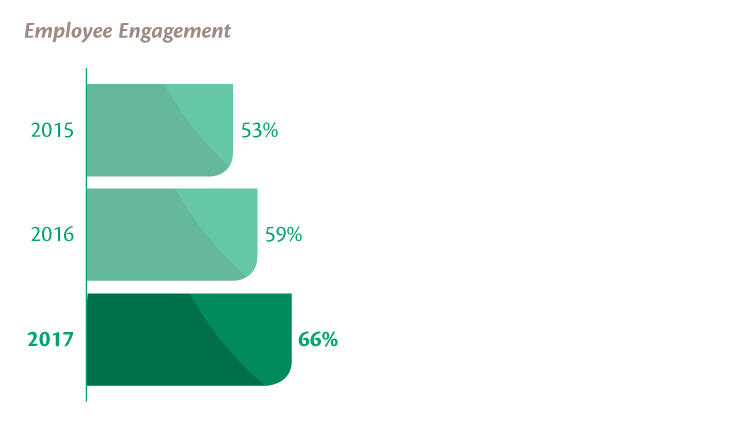 Staff Training and Service
The group spent Rs 18.5M towards employee welfare and development in 2017. Some Rs 5.5M was spent on employee training and development programmes.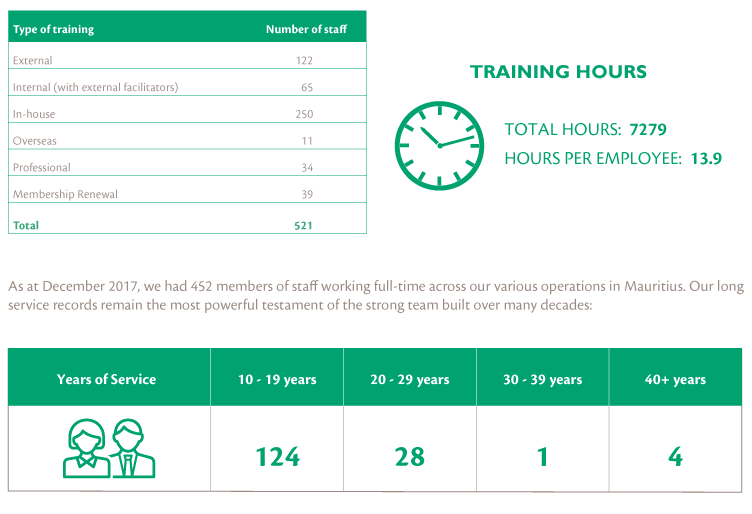 Investing in our Environment
We remain conscious of the threats of climate change and poor environmental conservation on our island. We take our role as a responsible insurer and corporate citizen very seriously.
To this end, we are acutely aware of the responsibility we have to invest judiciously, manage our resources carefully and reduce the impact we have on the environment.
We continue to invest in a number of initiatives across the Group to reduce our overall carbon footprint. The measures taken during 2017 to curb wasteful consumption of paper, fuel and energy have helped to lower some key indicators during the year, illustrated in the table below: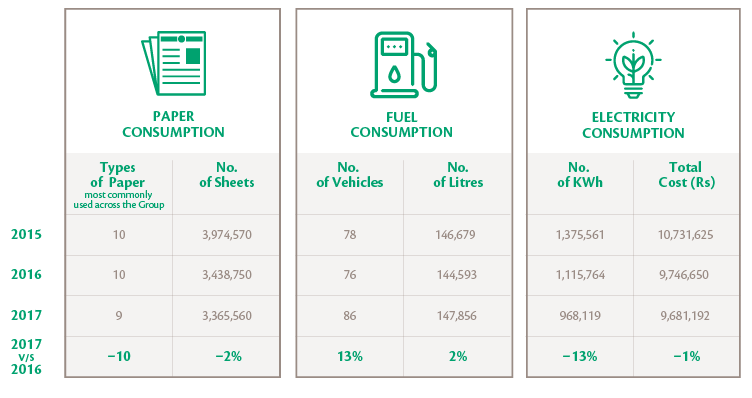 Mauritius Union Team Building 2017
Agents & Partners
Employee Events
Events & Sponsorships
Corporate Social Responsibility
Road Safety Initiatives